MOJAVE, Calif. | Virgin Galactic's tourism spaceship soared more than 50 miles high above California's Mojave Desert on Thursday, marking the first time the company has reached the boundary of space.
The rocket ship reached an altitude of 51 miles before starting its gliding descent, said mission official Enrico Palermo. The ship landed on a runway minutes later.
"We made it to space!" Palermo said.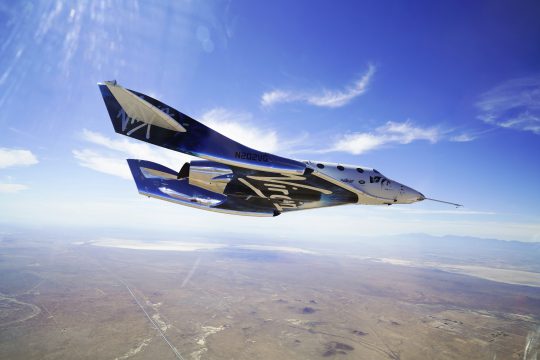 Thursday's flight brings Virgin Galactic a big step closer to turning the dream of commercial space tourism into reality. The company is looking to take paying customers on the six-passenger rocket, which is roughly the size of an executive jet. Virgin Galactic found Richard Branson has said he wants to be one of the first on board.
Branson cheered the pilots after the test, declaring "Space is Virgin territory!"
Virgin Galactic considers 50 miles the boundary of space because it is used by the U.S. Air Force and other U.S. agencies. That differs from a long-held view that the boundary is at 62 miles. Virgin Galactic CEO George Whitesides noted that current research favors the lower altitude.
At the start of the test flight, a special jet carrying the Virgin Space Ship Unity climbed to an altitude near 43,000 feet before releasing the craft. The spaceship ignited its rocket engine and it quickly hurtled upward and out of sight of viewers on the ground.
The two test pilots— Mark "Forger" Stucky and former NASA astronaut Rick "CJ" Sturckow — will be awarded commercial astronaut wings, said Federal Aviation Administration official Bailey Edwards.
Virgin Galactic's development of its spaceship took far longer than expected and endured a setback when the first experimental craft broke apart during a 2014 test flight, killing the co-pilot.
More than 600 people have committed up to $250,000 for rides that include several minutes of weightlessness and a view of the Earth far below.