WASHINGTON | President Donald Trump threatened on Thursday to declare a national emergency if he is unable to agree to a deal with Democrats to fund his promised border wall. He headed to the U.S.-Mexico border to attract further attention to his case after negotiations with lawmakers blew up.
The partial government shutdown dragged into a 20th day with hundreds of thousands of federal workers off the job or working without pay as the wall fight persisted.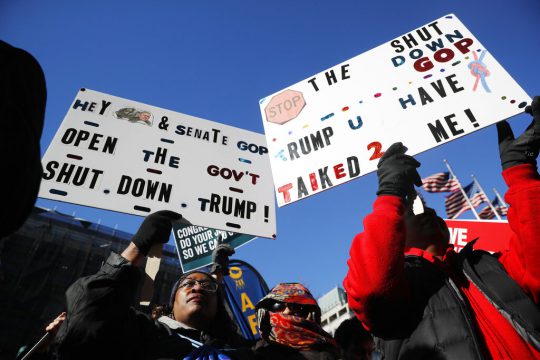 Asked about a national emergency declaration, Trump said as he left the White House for Texas, "I'm not prepared to do that yet, but if I have to I will." He argues such a declaration would allow him to direct the military to begin wall construction.
"So we're either going to have a win, make a compromise —because I think a compromise is a win for everybody— or I will declare a national emergency," he said.
It's not clear what a compromise might involve. Trump claims he won't reopen the government without money for the wall. Democrats say they favor measures to enhance border security but oppose the long, impregnable walling that Trump envisions. He is asking $5.7 billion for wall construction.
Trump's comments came a day after he stormed out of a negotiating meeting with congressional leaders — "I said bye-bye," he tweeted soon after — as efforts to reopen the government fell into deeper disarray. Affected federal workers face lost paychecks on Friday, and more people are touched every day by the rollback of government services.
In McAllen, Texas, Trump will visit a border patrol station for a roundtable forum on immigration and border security and will get a briefing. But he has expressed his own doubts that his appearance and remarks will change any minds as he seeks money for the wall that's been his signature promise since his presidential campaign.
McAllen is located in the Rio Grande Valley, the busiest part of the border for illegal border crossings.
Several hundred protesters were chanting and waving signs opposing a border wall next to the South Texas airport where Trump was set to arrive. Across the street, a smaller group of protesters shouted back, chanting, "Build that wall!"
Putting the standoff in personal terms, the president tweeted before leaving for Texas: "The Opposition Party & the Dems know we must have Strong Border Security, but don't want to give 'Trump' another one of many wins!"
Speaker of the House Nancy Pelosi fired back in a press conference Thursday, accusing the president of engaging in political games to fire up his base.
"I think the meeting was a set-up so he could walk out," she said.