WASHINGTON | President Donald Trump is expected to announce his plan to nominate State Department spokeswoman Heather Nauert to be the next U.S. ambassador to the United Nations, officials familiar with the plans said Thursday.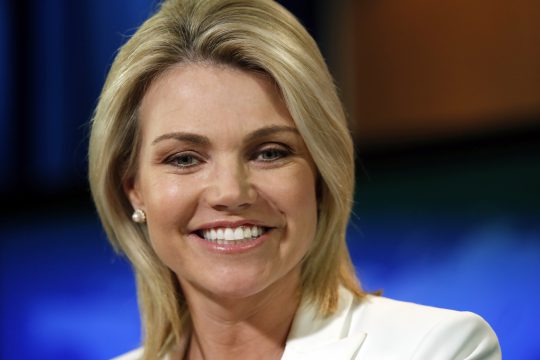 A pair of administration officials have confirmed Trump's plans. A Republican congressional aide said the president was expected to announce his decision on Twitter Friday morning. The officials were not authorized to speak publicly before Trump's announcement.
Trump has in the past said Nauert was under serious consideration to replace Nikki Haley, who announced in October that she would step down at the end of this year. If Nauert is confirmed by the Senate, she would be a leading administration voice on Trump's foreign policy.
Trump said last month that Nauert was "excellent," adding, "She's been a supporter for a long time."
However, with Trump, no staffing decision is final until he makes the formal announcement, since he has been known to change course in the past.
Nauert did not respond to requests for comment.
She was a reporter for Fox News Channel before she became State Department spokeswoman under former secretary Rex Tillerson.