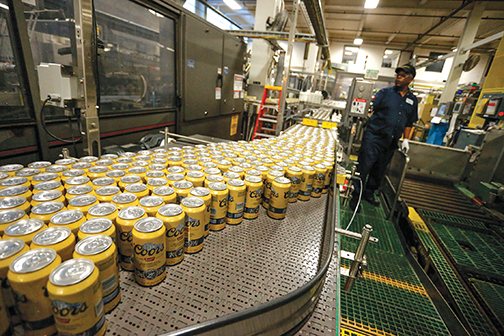 AURORA | Suds slingers around the country are crying foul about President Donald Trump's recently-implemented tariffs on aluminum, saying it amounts to a massive tax on the vessels that carry their tasty brews.
Colorado craft brewers, however, say, initially the move doesn't affect them the same way it does their giant competitors.
According to the Beer Institute — the lobbying arm of some of the biggest beer makers, including Colorado-based Miller/Coors — the tariff means more than $350 million in annual added costs for their members.
Jim McGreevy, president and CEO of the Beer Institute, said aluminum costs are among the biggest single line item on any big beer company's budget. They spend more on aluminum for their cans than they do on glass for bottles or even hops for their brews.
So Trump's decision this summer to tack a 10-percent tariff on imported aluminum means a hefty expense for American beer makers, he said.
"We would like to see a repeal," he said.
Short of that, McGreevy said beer makers don't have a lot of good options. They can raise prices or they can trim their workforce, but that's about it, he said.
If companies go the job cut route, he said more than 20,000 people in the beer industry could be out of work.
And while the administration has said the move will help level the playing field with other countries — and eventually bring aluminum manufacturing back to the United States — beer industry leaders say they don't see that happening, at least not in the short term.
Most of the domestic aluminum plants that once smelted aluminum closed their doors between World War II and the 1970s, McGreevy said. Even if American producers wanted to start cranking out their own aluminum stamped "Made in America," McGreevy said it wouldn't be as simple as re-starting some boarded-up old factory.
"Many can't be refurbished, and new factories would need to be built," he said.
While the tariff is particularly unpopular among those massive beer makers, it has also irked the smaller craft brewers whose cans take up an increasingly large section of cooler space at liquor stores around the country.
Bob Pease, president and CEO of the Brewers Association, which represents many smaller craft brewers, issued a statement this summer blasting the plan.
"The Brewers Association opposes the recently imposed tariffs on steel and aluminum products, as we believe it undermines the Trump Administration's pro-job, pro-growth agenda. The market uncertainty and financial penalties created by these tariffs negatively affect a growing manufacturing sector of the American economy: the craft brewing industry. We urge this Administration to reconsider these tariffs, as they place an unnecessary burden on small, Main Street business owners who are creating thousands of jobs and pouring money back into their local economies," the statement said.
A spokesperson for the Brewers Association didn't respond to a request for further comment on the tariffs this week.
But for small brewers, like the craft breweries that have boomed locally in recent years, a spike in aluminum costs might not be a huge deal.
"To me, I don't even think about it," said Jeremy Gobien, owner and head brewer at Copper Kettle Brewing Co.
Gobien, who opened his brewery in east Denver seven years ago and started canning five years ago, said Copper Kettle fills about 250,000 cans each year.
That might seem like a lot, but Gobien said his brewery probably doesn't produce even 10 percent what some of the bigger "micro brewers" do.
So far, the tariffs haven't trickled down to his bottom line. He said he spoke to the company he buys cans from recently and they said they hadn't seen a spike yet.
Even if the costs do make their way to him, Gobien said he doesn't expect it to be much, maybe about $2,000 annually in the worst case.
That probably won't even mean a spike in the price at the store, he said, because it would break down to just a pennies on a $9.99 six pack.
The bigger concern for small breweries, he said, could be the tariff on steel, which would make one-time purchases of pricey beer-making equipment skyrocket. For a $100,000 piece of equipment, adding $25,000 in costs could really hurt small brewers, he said.