AURORA | State and federal authorities arrested eight people Wednesday as part of a months-long investigation into an Aurora-based criminal network that peddled stolen luxury cars to unsuspecting buyers and used some of the vehicles to traffic black-market marijuana across the country.
The arrests were made as officials from the U.S. Drug Enforcement Administration and the Colorado Auto Theft Prevention Authority served eight warrants at homes across the metro area, including in Aurora. As a result of the raids, investigators seized "large amounts" of marijuana, money, firearms and additional stolen vehicles, officials said at a press conference Wednesday afternoon.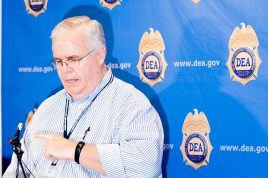 At least 17 stolen vehicles totaling about $1.2 million have been recovered as a result of the roughly six-month-long investigation.
Officials identified "an organized criminal enterprise" that duped unsuspecting consumers into buying stolen, high-end cars by switching vehicle identification numbers.
"It's a complex VIN switch conspiracy that's gone on," said Randy Ladd, spokesman and special agent with the DEA.
Officials first got a tip about the Aurora-based crime ring in May, when an auto mechanic in Littleton told authorities someone asked the unknown tipster to install a trapdoor in a Dodge Charger, according to a grand jury indictment filed yesterday. The person who requested the modification on the car, worth an estimated $43,875, then told the auto-shop worker he was stealing 20 to 30 vehicles from dealerships each month, flubbing new VIN numbers for the cars, and selling them at a profit.
Upon receiving the tip, officials uncovered a convoluted web of criminal activity that involved stolen cars — mainly from Florida and Georgia — as well as illegal marijuana and hash oil being processed around the metro area and distributed across the country.
The criminal organization had anchors in at least two residential homes in Aurora: 19289 E. Caspian Pl. in the city's eastern sector, and 1600 Havana St. in north Aurora. Homes in Arvada and Federal Heights were also mentioned in the indictment.
Members of the grand jury indicted Joshua Robertson, Sage Greco, David Guzman, Cody Kerstiens, Jason Siew and Brian Richburg on nearly two dozen counts of various charges, including racketeering, forgery and theft.
Officials said they arrested four people mentioned in the indictment Wednesday and four others on probable cause. Two of the people indicted by the grand jury were still at-large as of Wednesday afternoon, but should not be considered dangerous, officials said.
Ladd said many of the stolen vehicles were sold on online websites like Craigslist. He said prospective buyers should always be on the lookout for extraordinary deals.
"If the deal was too good to be true, then it's probably not true," Ladd said. "If you're getting an $80,000 automobile for $50,000, beware." 
Authorities have so far seized vehicles made by Cadillac, GMC, Ford, Mercedes Benz, Porsche, and Lamborghini, among other companies. Several of the cars were valued at more than $100,000.
Officials have seized several vehicles from people who unwittingly purchased the stolen vehicles, according to Mike Greenwell, a commander with the Metropolitan Auto Theft Task Force.
Upon completion of the criminal proceedings, those people will likely be eligible for a "robust restitution," according to Matt Maillaro, assistant district attorney with the 18th Judicial District. Until then, the victims will be out thousands of dollars, and a car, authorities said.
The implicated criminal organization also distributed significant amounts of illegally processed marijuana and hash oil — sometimes using the stolen sport cars — across the country. Investigators said Georgia, Florida, Tennessee, Arizona, Maine and California were all involved in the network.
"We're seeing criminal organizations from outside the state of Colorado moving here to continue to conduct their criminal activity and they meld it in with the black market marijuana," said Tim Scott, acting assistant special agent in charge with the local division of the DEA.
Scott said there are so many marijuana grows in the metro area that the DEA is often outmatched in combatting them.
"There is not a neighborhood in probably Colorado that's not affected by this," he said. "I'm talking $1 million-plus homes all the way on down … we get so many of them, to be straightforward, we can't even deal with them all."
He said neighbors should keep an eye out for homes with expensive and complex air conditioning units, extra venting, sealed windows, and frequent visitors late at night. Scott said homes growing large amounts of pot tend to "sweat" or ooze during the winter due to the humid environment being maintained inside.
He added that several of the homes raided Wednesday contained equipment used to create hash oil using butane or "honey oil."
"There is a huge danger, fire danger (and) explosion danger, with these butane/honey oil labs," Scott said.
Agents from the DEA collected between 300 and 500 plants at locations across the metro area today, according to Ladd.
There were no injuries incurred during the raids and all suspects cooperated during the arrests, officials said.
The raids conducted Wednesday morning marked the DEA's second significant illegal marijuana bust in Aurora in as many months. Agents collected hundreds of plants and grow lights from various homes in the city's Tollgate Crossing neighborhood in October.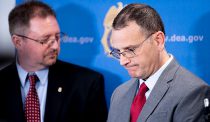 Officials said many of the nearly 30 homes that were searched two months ago were linked to a single criminal organization.
The 18th Judicial District Attorney's Office in Arapahoe County will be prosecuting the group mentioned in the recent indictment going forward.