SAN FRANCISCO | For the last few years, the smartphone industry has been searching for a breakthrough to revitalize a market mired in an innovation lull and a sales slump. A potential catalyst may loom on the horizon in the form of flexible screens that can be folded in half without breaking.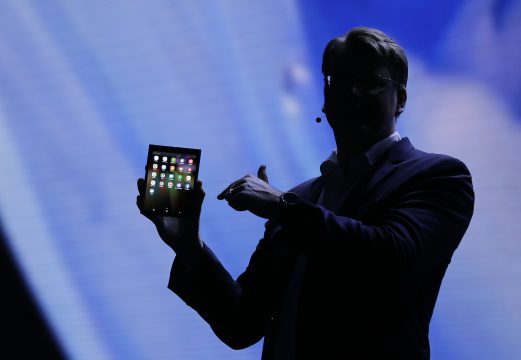 Samsung and its rivals are preparing to roll out such screens to make devices more versatile for work and pleasure. The foldable screens could increase display space to the size of a mini-tablet, but they would also fold like a wallet so they revert to the size of regular phones. However, there are questions about price and durability.
The new phones cold become a leap ahead for an industry with origins that can be traced to the old flip phones that consumers once embraced as cool and convenient. Foldable-screen phones, though, won't require hinges because they have continuous displays that can bend.
Samsung first announced plans to build a folding-screen phone five years ago. However, it wasn't until Wednesday, though, that the electronics company finally provided a glimpse at what it's been working on.
"We have been living in a world where the size of a screen could only be as large as the device itself," said Justin Denison, Samsung's senior vice president of mobile product marketing. "We have just entered a new dimension."
Except for a fleeting look at a device he held in a hand, Denison provided very little information about the phone. Samsung claims the phone will be ready to hit the market at some point next year.