OGDEN, Utah | Payday will come Friday with no checks for about 800,000 federal employees impacted by the government shutdown. That means some workers will have to limit their spending, cancel trips, apply for unemployment or take out loans to stay afloat.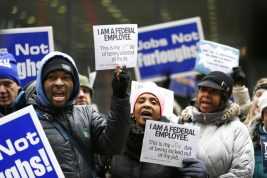 Among them is IRS employee Krystle Kirkpatrick.
She and her family, including two children, ages 6 and 12, aren't going out to eat, buying brand foods or stopping for drinks at the gas station. Her husband is pulling overtime at his job as a machinist to try to make up for her lost paycheck.
Her mortgage company told her it won't let her skip a payment.
She says: "It's a very scary feeling."
The shutdown, which enters its 21st day Friday, will be the longest in history by this weekend and is causing many American families to make tough decisions. It's especially hard for workers who don't have enough savings to cover their mortgages and other bills.
Roughly federal 420,000 employees were deemed essential and are working unpaid. An additional 380,000 are staying home without pay. While furloughed federal workers have been reimbursed pay in previous shutdowns, it's not guaranteed that will happen this time. Government contractors, who have been placed indefinitely on unpaid leave, don't get compensated for lost hours.
Most of the government workers received their last paycheck two weeks ago, and Friday will be the first payday with no money. On Thursday, federal workers asked for an end to the shutdown during rallies planned in such places as Denver and Ogden.
Some workers are relying on donations, including launching GoFundMe campaigns. A food pantry has been established at a Coast Guard base in Boston. Some workers are thinking about taking second jobs.
Michelle Wallace, a 34-year-old mother of four, made a tough choice Thursday after she realized there would be no last-minute deal to end the shutdown, meaning her husband, a federal worker, would miss a paycheck.
A nurse fresh out of school and strapped with student debt, Wallace told her 16-year-old son that the family couldn't go to his basketball tournament in a neighboring town an hour away from their home in the Peoria, Illinois, area because they couldn't afford to buy tickets or use the half-tank of gas it would take to get there.
"We want to be there to support him," Wallace said through tears. "But there's no end in sight for the government opening back up, I don't know when we'll have enough money coming in, and I can't justify spending anything."