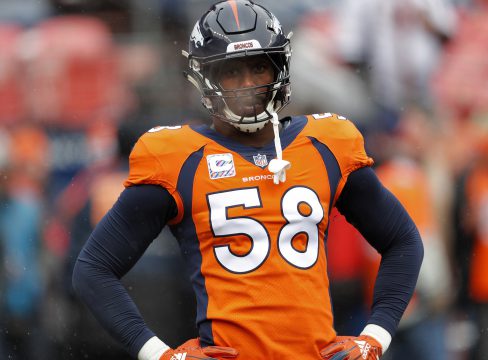 ENGLEWOOD, Colo. | Von Miller just can't find anything negative to say about Philip Rivers anymore.
"I've always enjoyed going against Philip," Miller said Thursday. "Well, I'm lying. I didn't use to always like going against Philip. I really didn't like the guy until like two years ago."
That's when the Broncos' star pass rusher got to know the Chargers' star quarterback at the Pro Bowl.
"When we kicked it at the Pro Bowl, I was just blown away about what type of guy he was on and off the football field," Miller said. "And I got a lot of respect for him."
Miller said that if Rivers were complimented by the talent that Tom Brady, Eli Manning and Ben Roethlisberger have enjoyed throughout their careers, "he'd have multiple Super Bowls just like those guys."
Miller and Rivers will square off for the 15th time Sunday when the reeling Broncos (3-6), losers of six of their last seven, face the red-hot Chargers (7-2), who have won six in a row.
Miller said the only reason he used to despise Rivers was the uniform he wears.
"I just didn't like him because he played for the Chargers," Miller said.
It wasn't so hard for him to come around to liking the guy, however.
"You ride on the bus at the Pro Bowl and in the locker room you're just around the guys and you're like, 'Man, this guy's cool. I like this guy.' He's a great father. He's a great leader for the Chargers," Miller said. "I know some guys over there in Melvin Ingram and Melvin Gordon and they say the same thing about him.
"Everybody loves him. I've got a lot of respect for him and this game's going to be a good one."