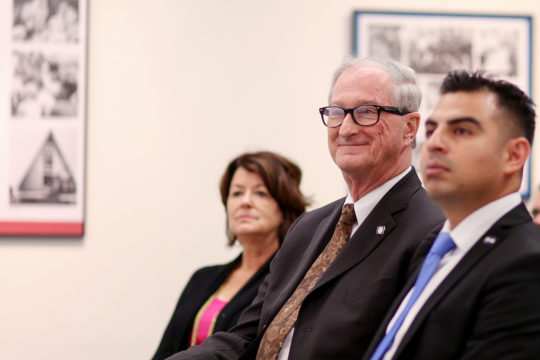 AURORA | Mayor Steve Hogan died early Sunday after battling cancer for several weeks, the family announced today.
"It is with the deepest sadness that we inform you that Stephen D. Hogan, Mayor of Aurora, passed away early this morning, May 13, 2018. He was 69 years old," Aurora officials said in a statement.
Hogan has served as mayor since 2011. He sat on the city council for 24 years and was a state representative of the Colorado House.
PERRY: Mayor Steve Hogan makes a good case for setting aside his term limit and cancer
The Hogan family has asked that in lieu of flowers, donations be made to the Mayor Stephen D. Hogan Memorial Fund via a link that will be on the city's website at AuroraGov.org early this week.
Details about services are forthcoming, members of the family said.
Councilwoman Marcia Berzins is mayor pro tem during meetings and when officiating at events. The City Council will now begin the process of interviewing and selecting a new mayor to finish Hogan's term. The city's charter states that the mayor's position is that of a member of city council in this matter. City council appoints vacancies, which assume the seat for the remainder of the term. Hogan's term ends next year.
Hogan received a bachelor's degree from the University of Denver, and he served one term in the Colorado Legislature as a Democrat from 1975-1976.
He ran for Congress against former astronaut Jack Swigert in 1992 and lost the race. He ran again in a special election the next year after Swigert died before assuming office.
Hogan was elected to the Aurora City Council in 1979 and was elected for six terms, not consecutively until being elected mayor in 2011. Hogan went on and off the city council as required by state term limitations.
While serving on city council, he became the executive director  of the E-470 Highway Authority, working there from 1991 to 1998. He left the authority to take over management of the Northwest Parkway Authority, seeing that project to fruition before stepping down in 2008.
He and former Councilwoman Barb Cleland married and divorced while both were serving on city council.
Hogan remarried Becky Hogan, and the two have lived in northeast Aurora.