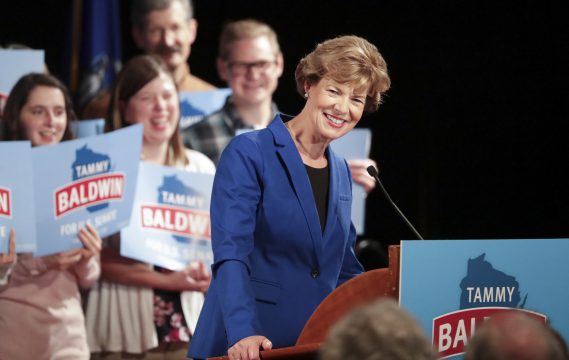 On the East Coast, West Coast and in heartland states between them, LGBT candidates scored a round notable midterm election victories — winning two governorships, at least nine seats in Congress, and their first-ever legislative seats in Indiana, Kansas and Nebraska.
The head of the LGBTQ Victory Fund, which recruits and assists LGBT candidates, said several of the victors in Tuesday's elections were motivated by concerns over the Trump administration's rollback of protections for transgender people.
"We've worked hard to achieve the rights we have today," said the fund's CEO, former Houston Mayor Annise Parker. "But we realize we're still in a vulnerable position in many places."
From Parker's view, the highlights were many. In Colorado, U.S. Rep. Jared Polis became the first openly gay man elected as a governor of any state. In Wisconsin, Tammy Baldwin — who in 2012 became the first openly gay person to win a U.S. Senate seat — easily won re-election despite being targeted by outside conservative groups that spent millions attacking her.
In races for the U.S. house, a record eight LGBT candidates won seats for the Democrats. Four incumbents— Mark Takano of California, Sean Patrick Maloney of New York, David Cicilline of Rhode Island and Mark Pocan of Wisconsin — will be joined in January by newcomers Katie Hill of California, Sharice Davids of Kansas, Angie Craig of Minnesota and Chris Pappas of New Hampshire.
For two other LGBT candidates, their races were too close to call — U.S. Rep. Kyrsten Sinema's bid for a U.S. Senate seat in Arizona and Gina Ortiz Jones' race for a U.S. House seat in Texas.
Hill, Davids and Craig were part of a batch of Democratic winners who flipped control of GOP-held House seats, overcoming initial skepticism that LGBT candidates were not best-suited for that challenge.
"We saw LGBTQ candidates talk openly about their lives to a degree unseen in past elections — and it resonated with voters," Parker said.
In Minnesota, Craig featured her wife and their sons in TV ads en route to winning a rematch against GOP Rep. Jason Lewis in the Twin Cities' suburban 2nd District.
"What I say is my wife and I have four sons, just like any other politician would," Craig said during the campaign. "It'd be cool to be the first openly gay member of Congress from Minnesota, but that's not why I'm running."
In Kansas' 3rd District, near Kansas City, Davids unseated four-term GOP incumbent Kevin Yoder. Being lesbian was only one aspect of an eye-catching biography — she's also Native American, a lawyer, a former White House fellow, and a past competitor in mixed martial arts.
"From the beginning, this campaign has been built on bringing new leaders to the table, and new voices to the table," she said in her victory speech.
In New Hampshire, Pappas did not stress his LGBT status during the campaign, but reacted with passion during a debate when his GOP rival, Eddie Edwards, questioned why Pappas had been photographed wearing a "Resist" T-shirt.
"The photo you are referring to is a rainbow shirt I wore at a gay pride event," Pappas said. "I am proud of who I am and I am proud to stand up against hate, bigotry and intolerance."