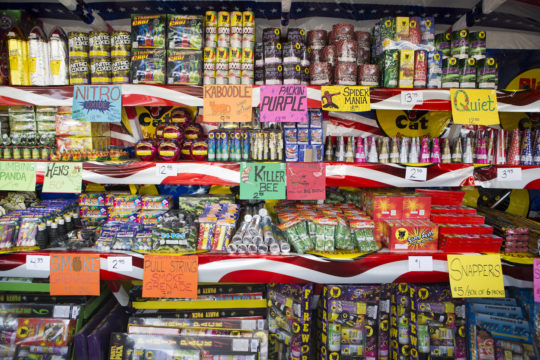 Through much of last week, the 416 Fire raged near Durango, charring more than 30,000 acres of wilderness in southwest Colorado and came dangerously close to residential communities.
Smoke from that blaze and a few others across Colorado's Western Slope was visible even hundreds of miles away in Aurora, where a blanket of haze covered much of the city.
Like July 4 cookouts and a frustrating Rockies pitching staff, wildfires like the 416 are part of every Colorado summer.
With that smoke hanging in the air, Aurora Fire Chief Fernando Gray and his staff couldn't help but turn their focus to another summer tradition: fireworks.
For generations, Aurora banned all fireworks, everything from sparklers to bottle rockets to artillery shells. But last year city council softened the rules, allowing the sale and use of a limited list of fireworks — basically anything that doesn't explode or shoot into the sky, mirroring the rules common to many unincorporated parts of the state. The softer rules came with a carve out, though, which left it up to the fire chief to decide each year whether the conditions were safe enough for even that limited list of fireworks.
After weeks of meetings about the dire dry summer conditions, and at the end of a particularly hot stretch of days, Gray last week banned the use and sale of all fireworks in Aurora, including those more-tame options like sparklers and ground snakes.
"The conditions right now in our region, they are just ripe for us to have some type of wildfire event," he said this week.
Wildfire means different things in different parts of the state. Think massive brush fire on the city's eastern plains rather than a local re-inactment of Mrs. O'Leary's Cow.
The move though — which followed a similar ban handed down days earlier by the Arapahoe County commissioners — stings the dozen or so licensed fireworks stands that were set to open across Aurora. Brad Witherell, owner of Davey Jones Fireworks, was set to open five fireworks tents in Aurora this summer. Last summer his company was one of several with tents dotting parking lots around Aurora for the city's first legal fireworks sales.
The ban this year came as a bit of a surprise, he said, especially considering the low-risk presented by the fountains, sparklers and other "safe and sane" fireworks he sells.
"They are designed for these western, dryer states," he said. "We sell them in California, New Mexico and Arizona."
Gray could opt to lift the fireworks ban between now and July 4, but he said he isn't anticipating the sort of heavy rain that would drench those wildfire worries.
That means with just a few weeks before the July 4 holiday and the crush of fireworks shoppers stands like Davey Jones were counting on, the outlook for this year's fireworks season is murky at best.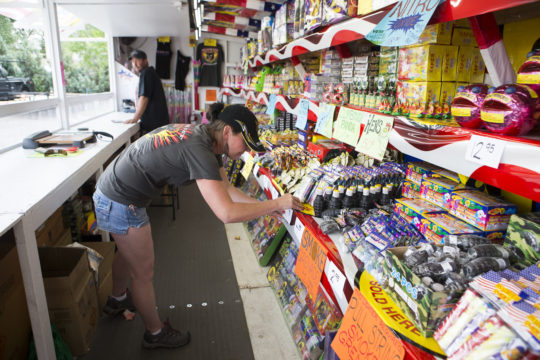 Aurora lights up in 2017
Across most of the metro area, fireworks have long been banned. And where they aren't banned, confusion often reigns.
Stands selling fireworks could legally operate in unincorporated parts of the county and legally sell fireworks.
Before 2017, stands flocked to the unincorporated parts of Arapahoe County close to the Aurora border and legally set up shop.
The problem for Aurora residents was that while they could legally buy those fireworks at an Arapahoe County stand, they were breaking the law as soon as they drove across the line into Aurora.
That confusion was one of the reasons the Aurora City Council voted to legalize that limited list of fireworks last year.
Officials speculated at the time that lifting the ban could also help prevent people from burning fireworks in private, where they could cause a more serious fire risk. That was one of the reasons even fire officials backed the plan, saying they hope it means more people will light fireworks in an open and safer manner.
Anything that explodes or shoots into the sky is illegal under state law, unless you get a professional permit and show license. Aurora's softening of the ban didn't change that. You still can't light up the sky with mortars or Roman candles. But the sparklers, fountains and smoke bombs? In 2017 at least, you could buy those in Aurora and turn around and light them off here, too.
Trevor Vaughn, manager of tax and licensing for the city of Aurora, said the first year of legal sales went about as smoothly as he could have hoped.
Last year, the 13 fireworks stands that dotted the city for the first time ever sold about $500,000 in fireworks, according to the city. Those stands sent the city $19,132 in sales taxes and $11,700 in fees.
Vaughn said most of the stands were run by companies like Davey Jones, which have multiple stands and know what they're doing when it comes to following a city's fireworks rules.
"These companies operate all over the country, so they kind of knew the basics," he said.
Council member Francoise Bergan, who pushed for lifting the ban last year, said the biggest problem facing the city was what people thought was permissible.
She said she didn't hear many concerns from other communities about residents buying fireworks in Aurora and taking them elsewhere. The bigger problem, she said, was people making the trek north to Wyoming to buy fireworks that put the air in aerial.
Those couldn't be bought in Aurora, or anywhere in Colorado for that matter.
Fire officials said last year the only fireworks problems they dealt with around the holiday were those illegal ones bought in another state.
Police officers and firefighters — who patrol the streets together around the holiday searching for illegal fireworks — issued 37 summons last year, up from 20 a year prior. And fireworks caused two structure fires in 2017 compared to just one in 2016. Fireworks sparked 36 vegetation blazes compared to 20 in 2016.
At least one fire was caused by fireworks last year, but fire officials said that one was caused by mortars, which set the roof of a home on East Utah Place on fire.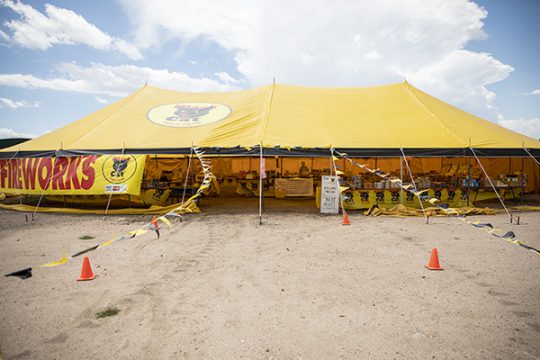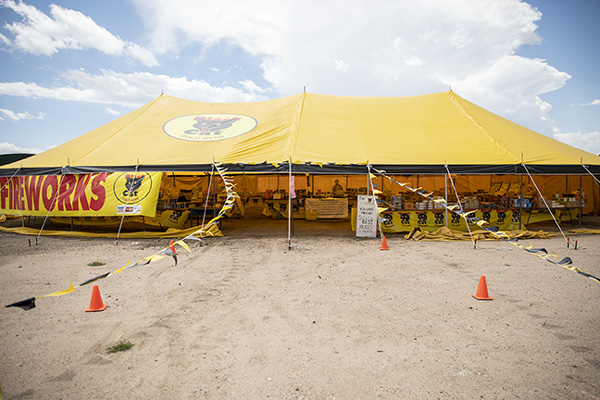 Tough business
Before Gray announced Aurora's ban last week, fireworks companies had applied to open 19 stands around Aurora.
Vaughn said the city will refund the application fees to those companies, but some are opting to wait on that refund in the hopes that Aurora will lift their ban.
For companies like Davey Jones, the first few days of the ban aren't too painful, Witherell said.
Even if the ban hadn't come down, he said his five tents in Aurora weren't going to start opening until June 22.
The important stretch, he said, is that week just before July 4. That's when revelers flock to tents and sales skyrocket.
"It's really all about just those few days leading up to the Fourth of July," he said.
Already, he said his company had about 50 employees lined up for the sales season. In Aurora, when there is no ban in place, that season stretches from June 15 to 10 p.m. on July 4.
In addition to the employees, he has already purchased all the fireworks. He also paid rents on the land where the tents would go and in the case of the tent at South Havana Street and East Florida Avenue already paid a crew to put the tent up. Today, with sales banned, the black and red tent sits empty in an otherwise vacant field.
Witherell said he is holding out hope that the city will lift the ban and he will be able to get the tents stocked and ready for a brisk week of sales leading up to the holiday.
"We are hoping there will be enough rain to revoke the fireworks ban," he said.
But even in the current conditions, Witherell said he is confident the fireworks he sells don't pose much of a risk. The industry calls the fireworks allowed in Colorado "safe and sane," he said, because unlike the mortars and other items that explode, these aren't likely to hurt anyone.
"The stuff we sell is just so tame," he said.
But Chief Gray said that with the dry conditions — and with some Aurora firefighters already assisting with wildfire responses around the state — the risk is just too great to allow fireworks.
Gray said he didn't make the decision to ban fireworks lightly. Instead, he said he was in countless meetings and pored over weather forecasts, hoping for enough rain to alleviate the dry conditions.
But the rain didn't come.
Even if it does, Gray said he isn't sure a few afternoon showers will help enough to lift the ban.
"If we get that level of rain and the conditions  change, then by all means, we can not have these type of restrictions," he said.
The current ban doesn't include things like backyard fire pits, something Aurora has banned in prior years when the conditions were especially dry. Gray said that as he reviews the conditions, he might have to ban those items, too, but he hopes it doesn't come to that this summer.
As for the fireworks, Gray said he doesn't want people to think he or his firefighters have a problem with them.
"It's not that our organization is averse to fireworks," he said. "It's just the level of risk that we are seeing now with the conditions."
Witherell said he understands the worry among fire officials and stressed that the city officials he has worked with so far have been a huge help. He's just holding out hope that Fourth of July isn't fireworks free because his guess is that most people would like a little bang for their celebration.
"Thank gosh most people do," he said. " Otherwise we'd be out of business."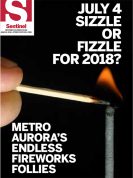 Professional fireworks displays around the metro

Aurora Fourth of July Spectacular

Wednesday, July 4, 2018

6 p.m. to 10 p.m.

Aurora Municipal Center

15151 E. Alameda Parkway

Aurora, CO

Independence Eve Fireworks in Denver

Tuesday, July 3, 2018

8 p.m.

Civic Center Park, 1500 Broadway, Denver, CO

Glendale Fireworks display

July 2, 2018,

9:15 p.m. to 10:30 p.m.

Creekside Park, 4400 E. Virginia Ave., Glendale, CO