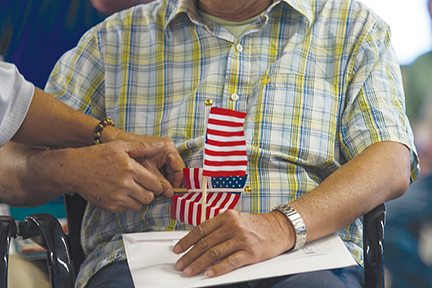 AURORA | Aurora will not become a member of two citizenship-focused national initiatives after city council members sparred this week over whether it is appropriate or too political to join such groups.
Councilwoman Allison Hiltz requested that the city join Cities for Citizenship as well as Welcoming Cities — representatives from Aurora's Office of International and Immigrant Affairs said at the meeting those two groups would provide training and data the office wouldn't otherwise have access to.
Cities for Citizenship, which has 25 cities as members including Denver, is aimed at encouraging those who are eligible to become citizens to do so. According to the organization, each year only about 9 percent of people who are able to become citizens complete the process. That jump into citizenship can end up having a significant impact on the community, too.
The organization says salary typically increases anywhere from 6 percent to 15 percent, and citizens are more likely to become homeowners. That all means more revenue for the city and less money is spent on public services.
Ricardo Gambetta-Alvarado, community program supervisor for the city's office of immigrant affairs, said joining the two groups would allow the office to extend their mission. But some council members said they felt the groups are too political, and that the services the city offers to immigrants and refugees is already a model for the rest of the country.
Denver and Westminster are members of Welcome America, which helps cities get "benefits including ideas, approaches, training, resources, networking, certification, and leveraged funding," according to the organization's website.
That didn't impress some members of city council enough to back an alliance.
"My first language was French when I came to the United States. I am a naturalized citizen, so I appreciate all the efforts that (these) organizations make," Councilwoman Francoise Bergan said. "However — and of course we want to be welcoming — my concern is that we already have that. Back in 2015 we changed our name from Office of International Initiatives to the Office of International and Immigrant Affairs."
She went on to say that the office already helps with naturalization, language classes and economic development.
"What I do have an issue with is becoming a member of an organization that I do think has a political agenda," Bergan said. "And we don't need to be a member of that organization. We're already at the forefront of this (these efforts)."
The initiative is chaired by New York City Mayor Bill de Blasio, Chicago Mayor Rahm Emanuel, and Los Angeles Mayor Eric Garcetti — which councilman Dave Gruber cited as evidence the organization has a political agenda.
"They all have a very specific political agenda that they're trying to accomplish," he said.
Hiltz disagreed.
"I don't see immigrants as a political pawn," she said. "And I don't see them as something we should be ignoring or dismissing. The intent of these resolutions that we are a model city… I know that there (is) a lot of passion and emotion for not helping certain parts of our immigrant community."
Gruber and Bergan balked at the accusation. Hiltz went on to apologize for her remark.
Bergan said that if the city was going to start joining boards and organizations, "we might as well join the NRA because we have gun owners in Aurora and maybe we should represent them as well."
But other council members said that isn't the case and that the city has long been a member of organizations they don't agree with 100 percent of the time. Councilman Bob LeGare noted the Colorado Municipal League and the National League of Cities.
Personally, he said he gives to the Denver-based Independence Institute, a libertarian think tank, and doesn't always agree with its views.