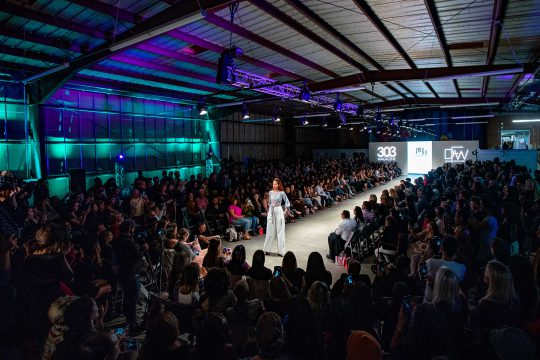 There's a fashion scene in Denver, and that's not a late-night comedy throw-away line.
You might not feel Denver is very haute that way, given the city's affinity for T-shirts, jeans and sunburns from mountain ski days.
But after a visit to the opening night of a photography exhibit celebrating the best of Denver Fashion Week's 10-year run, it's clear that bearded bros in flip-flops and business-casual attire isn't all the Mile High metro has to offer.
For the free exhibit, which opened earlier this month, the walls of downtown Denver's McNichols building were decked out with glossy images of models strutting down Fashion Week runways.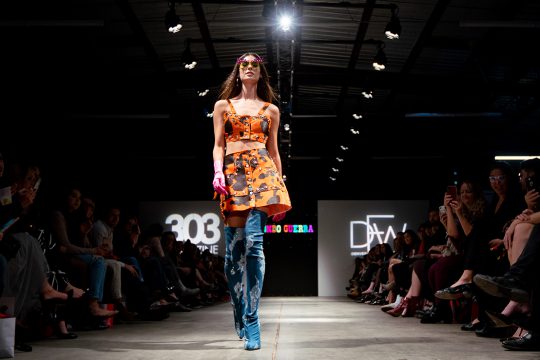 The photography and modeling alone were stunning, but the mainstay of opening night was a sold-out crowd that would fit just as easily in Milan as it did in Denver.
The city's best-dressed sipped cocktails, schmoozed and ogled striking looks from past Fashion Weeks. Men clad in flashy blazers and snake-skin shoes looked right at home alongside scores of fashionable women waiting in line for paparazzi-style photo booths.
One of the attendants, Tom Chain, wore designer eyeglasses and an open-chested, purple shirt. Chain, a native of New York's Upper-East Side, has attended three years of Fashion Week, the fashion festival where models premier the latest looks from designers, boutiques and makeup artists.
But Chain said the local fashion scene has its limits.
"It is what it is," said Chain, 52. "It's nice to see people expressing themselves — but it is definitely not New York."
That feeling was echoed by Grant Payne, 28, an aspiring fashion designer from Aurora.
"It is definitely burgeoning — definitely growing," he said of the fashion scene here.
That growing scene is both closely watched and curated by staff at Denver's 303 Magazine including Jennifer Tom, one of the city's only fashion editors. 303 co-produces Denver Fashion Week and regularly features local designers enjoying varying degrees of success.
303 Editor in Chief Brittany Werges said several Denver-based designers are hitting it big, including designer Duane Topping of Topping Designs.
Topping, a US Army veteran, began sewing to combat post-traumatic stress disorder. He's since developed a brand of women's clothing that has been featured in Vogue magazine and the runways of New York Fashion Week.
But Tom and Werges also monitor local, small-scale designers who incorporate Denver street style onto formal runways and the high-fashion element of the scene.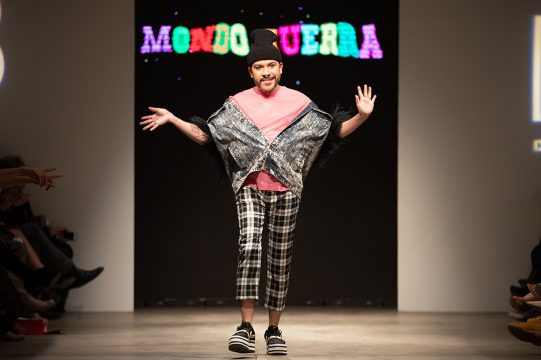 Werges said Denver is a city increasingly made up of transplants, which can make metro-wide trends hard to pin down. However, she said underground music scenes like the once-thriving rave and punk-rock cultures still heavily influence designers here.
For instance, Tom recently featured the punk designs of local designer AldoElCreator, who covers cargo pants and denim in patches and red-marker scrawlings.
On the other side of the fashion spectrum is "ath-leisure wear," or sleek sweat-wicking garb equally known for being comfortable and stylish.
Generally, Tom said Denver chooses casual style elements instead of starched suits or dresses. Even more fun, she said, is that many people break traditional style rules without even knowing it.
Events like the Best of Denver Fashion Week exhibit have helped draw the fashion-minded into the more formal fashion scene, Werges said.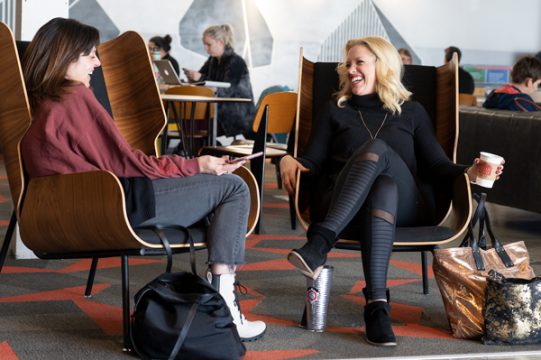 Werges helped curate the exhibit, which debuted alongside an exhibit launched by the Colorado Photographic Arts Center as part of their Month of Photography event series.
CPAC Operations Manager Stephanie Khoury said she was happy to see the sold out crowd – even in a town where button-downs and jeans still dominate city streets and Gov. Jared Polis can be seen rocking blue running shoes and bolo ties with black suits. (A combination that, with other fashion faux pas, earned him the moniker "worst-dressed man in Washington" and a makeover from GQ magazine.)
Despite the city's ski-bum and punk tendencies, a high fashion element is invading Denver. The Denver Art Museum's exhibit of haute couture Dior garments was extended until March 17, two weeks past its original run. And in neighboring bars and clubs, it's not impossible to see locals dressed to the nines.
Denver Fashion Week doesn't begin until late March, but the exhibit will run for several weeks. That should give Denverites ample time to dress up and experience a piece of what a growing fashion scene has to offer.