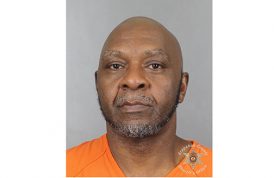 AURORA | An Aurora man who killed his 22-year-old passenger in a drunken driving crash last summer was sentenced to nine years in prison.
Dennis Flowers, 56, drove his 1999 Ford Expedition into a light pole and a tree around 2 a.m. Aug. 15, 2017 near the intersection of East Mississippi Avenue and Interstate 225, according to a press release issued by the 18th Judicial District Attorney's Office. 
Flowers' passenger, 22-year-old Kyana Ingram, was ejected from the vehicle and died as a result of her injuries. 
Flowers was not injured in the crash, according to the DA's office. First responders determined Flower's blood-alcohol content was 0.2 percent at the time of the crash, more than double the legal limit of .08 percent.
Flowers had picked Ingram up in his SUV after she ended her shift at The Children's Hospital on the University of Colorado Anschutz Medical Campus. Witnesses told investigators they saw Flowers "speeding and driving erratically," according to the DA's office.
In an Arapahoe County District court, Flowers had pleaded guilty in August to one count of vehicular homicide DUI, according to the DA's office. The 56-year-old had been convicted twice before for impaired driving.
"This defendant was given opportunities at rehabilitation in both of his prior drunk driving cases," Michael Mauro, the deputy district attorney who prosecuted the case, said in a statement. "He failed to take advantage of those opportunities, continued drinking, continued driving under the influence, and finally proved the lethality of that conduct."
George Brauchler, district attorney for the 18th Judicial District, called on state legislators to intensify the legal consequences for people who repeatedly drive drunk.
"I call upon the Legislature to finally stiffen the penalties for repeat and recalcitrant impaired drivers who put our families and neighbors at risk," Brauchler, who recently lost a bid to become the state's next attorney general, said in a statement. "We will continue to prosecute these cases, send drunk drivers to prison, and send the message that this behavior will not be tolerated."