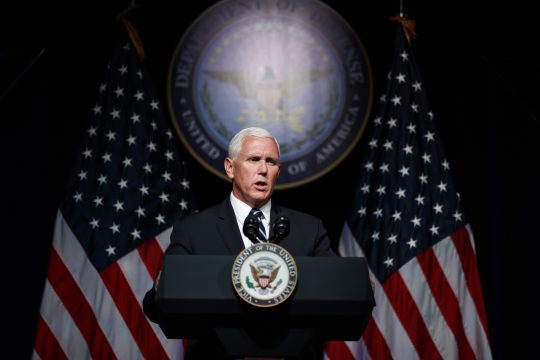 AURORA | The Space Force doesn't have a supporter in Aurora Congressman Mike Coffman. 
The Marine veteran, who represents Buckley Air Force Base, said in a statement Friday he opposes the Trump administration proposal to create the branch. 
"I strongly disagree with the president that now is the time to create a separate Space Force. Congress is laser focused on slimming down the bloated bureaucracy at the Pentagon, and creating a new 'Space Force' will inevitably result in more, not less, bureaucracy," Coffman said in a statement.
The proposal, which would create the branch by 2020, taps into the American public's long fascination with space — but with a military focus. 
Jason Crow, Coffman's Democratic opponent, isn't on board with the Space Force either.
"Donald Trump thinks we can't afford healthcare for the sick, housing vouchers for the homeless, or food stamps for the hungry, he said in a statement.
"So this looks like an ego trip to me. But I do think he has found a good home for some of his policy ideas," he added, joking the policy has no place in the real world.
The plan faces daunting hurdles and requires congressional approval. Military leaders and experts have questioned the wisdom of launching an expensive, bureaucratic new service branch.
Vice President Mike Pence announced the new force during a Pentagon speech, fleshing out an idea that President Donald Trump has extolled in recent months as he vowed to ensure American dominance in space. Pence described space as a domain that was once peaceful and uncontested but has now become crowded and adversarial.
Coffman said that while he doesn't think the Space Force is appropriate he does find common ground with those who criticize that "the U.S. Air Force has not focused enough on technological developments and the growing challenges emerging in space."
Pence portrayed the change as a response to foes' potential aggression rather than any offensive U.S. military effort.
Citing Russia and China, he said that for years U.S. adversaries have "pursued weapons to jam, blind and disable our navigation and communication satellites via electronic attacks from the ground."
"As their actions make clear, our adversaries have transformed space into a warfighting domain already, and the United States will not shrink from this challenge," he said.
But added that isn't reason enough to create a new military branch.
"The Secretary of the Air Force, Dr. Heather Wilson, has asked Congress to give her the opportunity to focus more of the Air Forces' attention on its space mission instead of taking it away and created a completely new organization," Coffman said. "Let's give her that chance."
— The Associated Press contributed to this report.