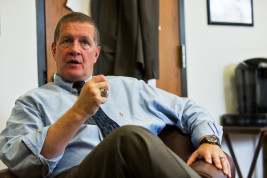 AURORA | Cherry Creek Schools Superintendent Harry Bull bid farewell to the school district he's been a part of for 34 years in an emotional final school board meeting on Monday night.
Bull, who's been superintendent since 2013, announced his retirement in January for health reasons. In his final remarks, Bull thanked the teachers, staff and students for their work and achievements during a time as superintendent and as an educator. And he took a moment to quote the movie "Bull Durham" and musician Jimmy Buffett.
"Thank you to the Cherry Creek School District for the last 34 years. I have served as an educator in this district for almost my entire career. Most recently I thank the Cherry Creek community for the opportunity to serve as your superintendent for the last five years," Bull said in prepared remarks. "I ask the record reflect my last statement, my last word, being a reminder that what we do in the Cherry Creek School District is learning."
School Board President David Willman bid Bull an emotional farewell. A seven-year veteran of the board, Willman said it was bittersweet to see Bull leave his position and credited him with positioning the district to meet the needs of students and continuing the Cherry Creek legacy of being the school district parents want to send their children to.
Bull's tenure hasn't been without controversy. This year the school district was rocked by news of multiple instances of students being sexually assaulted by staff. The reports resulted in scrutiny of how the school district handles such issues and when parents of a school community should be informed.
"We've had a lot of successes and some failures. And it's been such a  high growth time for our district and what we're doing for our students now and Harry led that. He led it from the heart," Willman said. "The biggest impact, it's really for all of our students to think outside the box about what is next in the 21 Century for student education and learning. And Harry was a big reason for this, aligning our values and opportunities we've given students."
Bull became a prominent statewide spokesman for increased school funding, part of a successful effort among school administrators to adjust state school funding and distribution legislation.
Among his accolades, Bull was named the state's top superintendent by the Colorado Association of School Executives for 2017. Bull is currently is in the midst of a year-long term as president of CASE's executive committee that ends in July.