HOUSTON | George H.W. Bush's family and friends praised his faith, humility and patience Thursday, saying the former president personified courage and grace along with his unique brand of humor and kindness.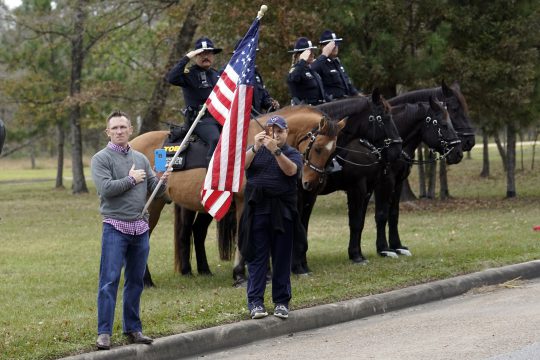 Addressing a funeral at Houston's St. Martin's Episcopal Church where the 41st president and his family regularly worshipped, Bush's former secretary of state and confidant for decades, James Baker, addressed him as "jefe," Spanish for "boss." He sang the praises of Bush as a "truly beautiful human being" who had the "courage of a warrior but the greater courage of a peacemaker."
"The world became a better place because George Bush occupied the White House for four years," said Baker, who concluded his remarks fighting back tears.
Once the services had ended, a special funeral train carried Bush's remains through small towns to the family plot on the presidential library grounds at Texas A&M University in College Station. His final resting place is alongside his wife and Robin Bush, the daughter they lost to leukemia at age 3.
Thursday's ceremony was distinctly Texas. In place of most Washington dignitaries were top Houston athletes including the NFL Texans' defensive end J.J. Watt — displaying Bush's love for sports — and Chuck Norris, who played TV's "Walker, Texas Ranger."
The St. Martin's Parish Choir performed "This is My Country," which was also sung at Bush's presidential inauguration in 1989. Those in attendance also heard a prayer stressing the importance of service and selflessness that the president himself offered for the country at the start of his term.
President Donald Trump wasn't there on Thursday, but Baker seemed to draw a gentle contrast by saying Bush respected vanquished adversaries. He said that Bush's wish for a "kinder, gentler nation" was genuine, not cynical.
There were rousing renditions of the "Battle Hymn of the Republic" and "Onward Christian Soldiers," but also many of Bush's country favorites. The Oak Ridge Boys recalled performing for him for decades and joked that Bush "fancied himself to be a good bass singer. He was not." They then sang "Amazing Grace" and Reba McEntire offered a musical version of "The Lord's Prayer."