At the time Virginia's future political leaders put on blackface in college for fun, Dan Aykroyd wore it too — in the hit 1983 comedy "Trading Places."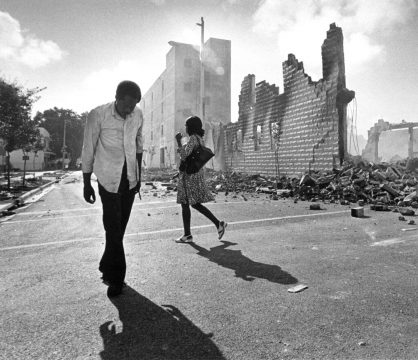 Sports announcers of that time often described Boston Celtics player Larry Bird, who is white, as "smart" while describing his black NBA opponents as athletically gifted.
Such racial insensitivities ran rampant in popular culture during the 1980s, the era in which Virginia Gov. Ralph Northam and the state's attorney general, Mark Herring, have admitted to wearing blackface as they mimicked pop singer Michael Jackson and rapper Kurtis Blow, respectively.
Meanwhile, Chicago elected its first black mayor, Michael Jackson made music history with his "Thriller" album, U.S. college students protested against South Africa's racist system of apartheid and the stereotype-smashing sitcom "The Cosby Show" debuted on network television.
It would be another 10 years before the rise of multiculturalism began to change America's racial sensibilities, in part because intellectuals and journalists of color were better positioned to successfully challenge racist images, and Hollywood began to listen.
"We are in a stronger position to educate the American public about symbols and cultural practices that are harmful today than we were in the 1980s," said Henry Louis Gates Jr., director of the Hutchins Center for African & African American Research at Harvard University.
During the '80s, college faculties and student bodies were less diverse, Gates said. Some scholars who entered college during the 1960s had yet to take on roles in which mainstream culture would heed their cultural critiques, he said.
At the time Northam and Herring put on black makeup, Hollywood and popular culture still sent messages that racial stereotypes and racist imagery were comical and harmless, despite pleas from civil rights groups and black newspapers.
Herring was a 19-year-old University of Virginia student when he wore brown makeup and a wig to look like rapper Kurtis Blow at a 1980 party. Three years before that, white actor Gene Wilder darkened his face with shoe polish in the movie "Silver Streak" co-starring Richard Pryor. He used a stereotypical walk to impersonate a black person living in an urban neighborhood.
On television, viewers could see a Tom and Jerry cartoon featuring the character Mammy Two Shoes, an obese black maid who spoke in a stereotypical voice. The 1940s cartoon series was shown across several markets throughout the 1980s. Television stations ignored complaints from civil rights groups.
Elsewhere, Miami erupted into riots following the acquittal of white police officers who killed black salesman and retired Marine Arthur McDuffie in what many called a case of police brutality. President Jimmy Carter visited and pressed for an end to the violence, but a protester threw a bottle at his limousine as he left.
When Northam wore blackface to imitate Michael Jackson and copy his moonwalking skills at a 1984 San Antonio dance contest, television stations still aired Looney Tunes episodes with racially insensitive images using Bugs Bunny and other characters despite some controversial episodes being taken off the air in 1968.