AURORA | An Aurora couple facing animal cruelty charges for having sex with a dog multiple times inside their Aurora motor home have pleaded guilty to animal cruelty, according to Arapahoe County prosecutors.
Fredrick Manzanares, 50, and Janette Solano, 48, each faced four misdemeanor counts of cruelty to animals, according to state records. Solano pleaded guilty to one count of animal cruelty; Manzanares pleaded guilty to two counts.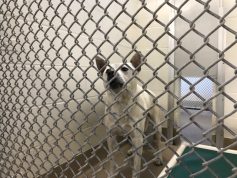 In exchange for the guilty pleas, both are asking for deferred sentences. A judge will consider the plea deals at a Sept. 17 sentencing hearing, according to prosecutors from the 18th Judicial District.
A 16-page arrest affidavit filed against Manzanares details a series of sex acts with a Siberian Hound named Bubba at the couple's home 4557 S. Fairplay Court. Solano told investigators Manzanares pressured her into having sex with the animal, acts he often recorded. She told investigators Manzanares also participated and was active on bestiality forums online.
Police wanted to charge Manzanares with several more-serious crimes, including sex assault, kidnapping and burglary, according to the affidavit. A spokeswoman for the Arapahoe County district attorney's office said prosecutors couldn't comment on why they opted for different charges in Manzanares' case because charges are still pending.
The affidavit said the bulk of the crimes happened from summer 2016 until spring 2017 when Solano reported them to police.
The dog was confiscated and placed in care at Aurora Animal Care. The shelter is slated to assess the dog for any behavioral issues and to determine the dog's fate.